Open Source Software in Pharma – Celebrating 5 Years of R/Pharma
We reflect on the achievements of the R/Pharma community over the past five years, showcasing the significant impact of open-source software in the pharmaceutical industry.
2023-10-03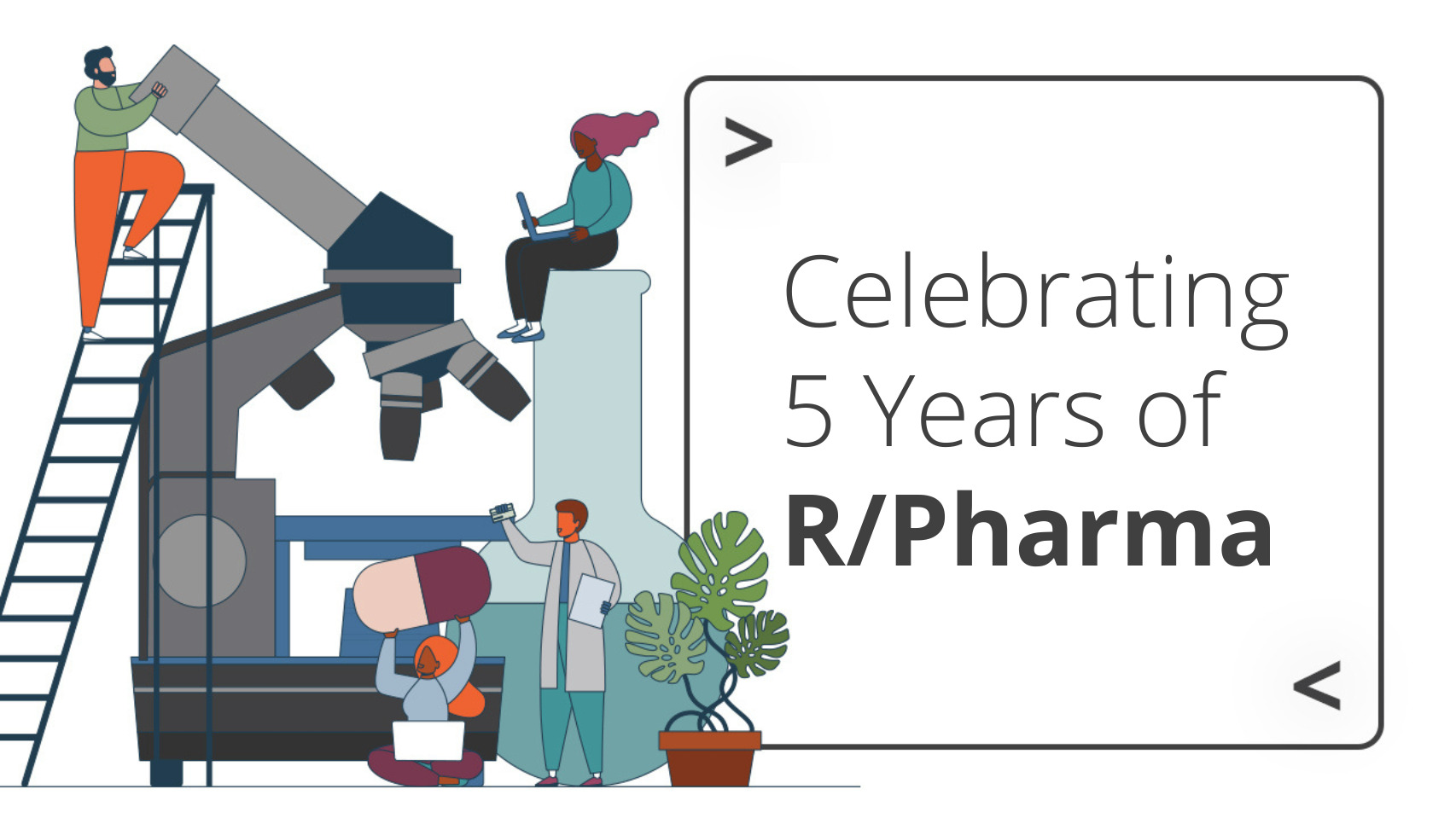 R/Pharma 2023 registration is now open! Register for the workshops and event.
R/Pharma is the premier conference dedicated to open-source software for pharmaceutical research. The conference aims to cover a wide range of topics related to using R as a primary tool within the drug development process. 
Ahead of the first meeting in 2018 at Harvard, Harvey Lieberman and Phil Bowsher at Posit (née RStudio PBC), and many others lacked a conference focused on the open-source tools they use. There are certainly many gatherings supported by proprietary software vendors, but drug discovery and clinical trial is increasingly driven by an ecosystem of open-source software and scientific methodologies developed and maintained by a community of users across academia and industry.
Where can these people meet with fellow contributors and users? Where can they discuss and drive new development? Enter R/Pharma. 
As soon as the call went out to the community to organize an event like this, companies leading the industry like Roche, Genentech, Abbott, Abbvie, Amgen, Biogen, Bristol Myers Squibb, Eli Lilly, Johnson & Johnson, Novartis, Merck, Pfizer, the Federal Drug Administration, and many others came together to host their first event on August 16th, 2018 at Harvard.
We compete on the molecules, not the software…because open-source software is often developed collaboratively, it can benefit from a faster pace of innovation than proprietary software. New features and capabilities can be added more quickly, and bugs and issues can be addressed more efficiently.

– Thomas Neitmann, PHUSE US Connect 2023
Much sets R/Pharma apart from other scientific conferences. 
The event is organized by a large community of users, both within and outside of pharmaceutical companies, who actively contribute to its success. It is a grass-roots effort, tailor-made for and by this active community, fostering a sense of collective participation and ownership.
Besides community building, R/Pharma is focused on learning. It's in the industry's best interest to cross-pollinate and disseminate best practices. 
At R/Pharma last year, the event hosted;
20 free hands-on, workshops and over 30 talks. 
With material for beginners, experts, individual practitioners, and for leadership. 
Topics spanned the gamut of open-source pharma, including introductions to many tools & methodologies, discussions of clinical reporting pipelines, validation frameworks, FDA submissions, working with tables, and interactive visualizations, and this just scratches the surface. 
Roundtable discussions focused on governance for cross-company package development, career development for women in leadership, and open-source community building. Pharmaceutical companies have stepped up to finance the event and their support allowed it and all workshops to be offered to attendees for free.  (It should be noted that Harvard University was particularly pivotal in making R in Pharma happen in its first two years.) And unlike most other technical conferences in this space, R/Pharma is not motivated by vendors and service providers. Anyone is free to propose a talk or workshop, but all are selected by a program committee representative of the practitioner community.
In many ways, the conference is a microcosm of the open-source community generally. Open source is free and open, driven by dedicated volunteer maintainers, supported by users, who report bugs, contribute improvements, and help disseminate and teach the tool to the people who will benefit most. R/Pharma is dedicated to bringing the community together, exploring common technical and regulatory challenges, and offering great talks, workshops, and other content that helps drug development researchers get their work done safely and efficiently.
Posit Software is a public benefit corporation dedicated to supporting open-source tools for data science and scientific research. Posit isn't seen as a vendor so much as a neutral player, we are a partner in bringing this community together and sustaining it. Our developers, including Max Kuhn working on tidymodels, Rich Iannone working on tooling for data display tables, Carson Seivert working on Shiny, and many others share updates to their tooling and receive feedback to make these tools even better. 
On the sidelines of R/Pharma, as practitioners came together to discuss common challenges, they sparked great ideas, leading to the emergence of projects, task forces, and working groups. 
The first meeting of the R -Validation Hub happened at the first R/Pharma. It focuses on supporting processes to create validated R-packages. Many in the R Submission Working Group say it essentially emerged from the sidelines of R/Pharma. It focuses on exploring and improving practices of R-based clinical trial regulatory submissions. The working group has extensively explored using R packages and Shiny applications in FDA clinical trial submissions. 
Phil Bowsher points out that the organizers are not strictly motivated by what projects result from the conference. They are instead motivated by connecting people. By bringing together key contributors and industry leaders, in a forum focused on discussing common problems, with participants focused on learning and sharing knowledge, the event naturally sparks the community to work together.
Learn more and register for R/Pharma 2023
R/Pharma 2023 registration is now open! Come join us on Oct 24 – 26:
Also, consider joining the R/Pharma Task Forces and R Consortium's Working Groups.