Five takeaways from posit::conf(2023)
We had a great time at posit::conf(2023)! We're excited to tell you about GitHub Copilot in RStudio, ShinyLive for R, and more.
2023-09-29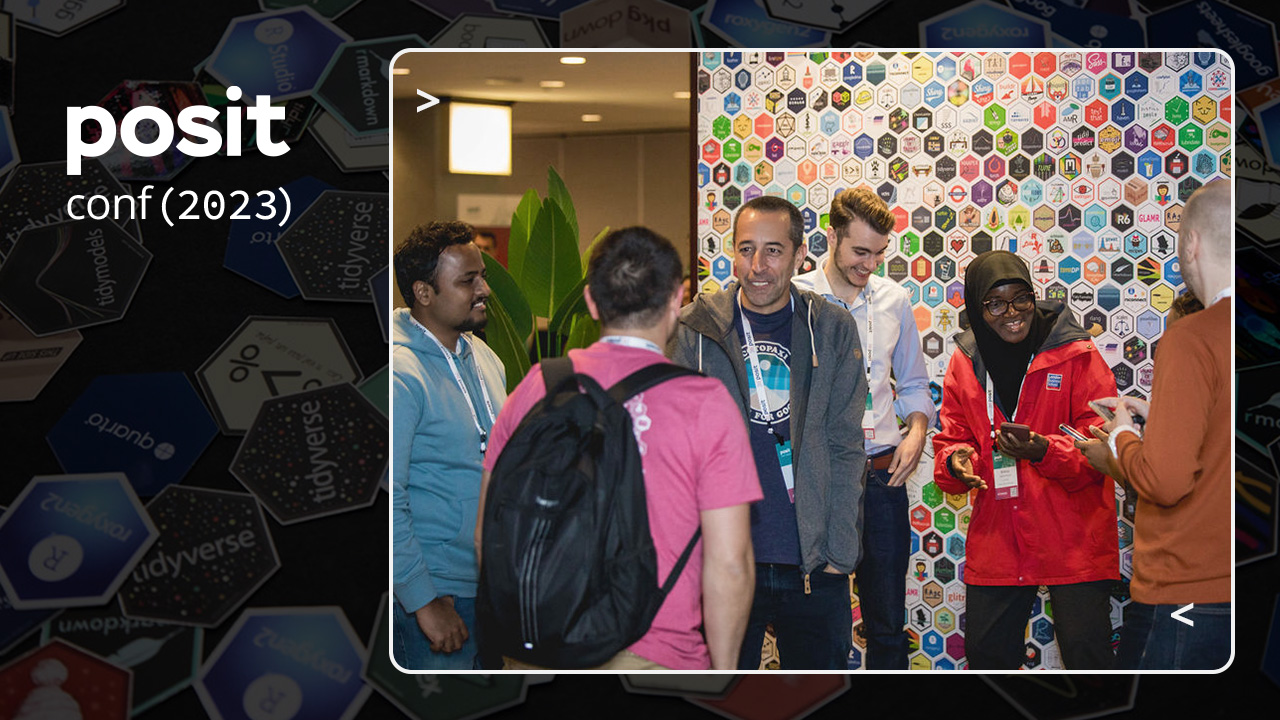 posit::conf(2023) was a smashing success,  with approximately 1300 in-person and 2800 virtual attendees joining us to share all about workflows with Posit tools, machine learning, Shiny, and much more. We heard amazing keynotes from Elaine McVey, David Meza, Kara Woo,  JD Long,  and Jeremy Howard. It was wonderful to celebrate the accomplishments of open-source data science across organizations and industries.
From dplyr to webR, there are too many developments to list. This post will share five product announcements from Posit. We will highlight more amazing packages, resources, and stories from conf in upcoming posts. Be sure to subscribe to our blog to know when these posts are released!
The keynote and talk recordings will be publicly available on YouTube in a few months. In the meantime, register for virtual conf to watch them on the event portal now.
Join us for posit::conf(2024)
If you missed posit::conf(2023), you can plan for posit::conf(2024)! The next conference will be in Seattle, Washington on August 12-14. Subscribe to "Events" on our subscription page to stay up to date.
GitHub Copilot integration with RStudio v2023.09
Posit is set to close its highest-upvoted issue, #10148, with the latest release of RStudio. Tom Mock, Product Manager of Posit Workbench, shares the exciting news.
Starting with v2023.09, RStudio supports integration with GitHub Copilot. GitHub Copilot enables AI-driven code suggestions through commented prompts in scripts. With this integration, users can incorporate GitHub Copilot into their coding workflows, opening up thrilling possibilities with generative AI. See Tom's slides on Posit Connect.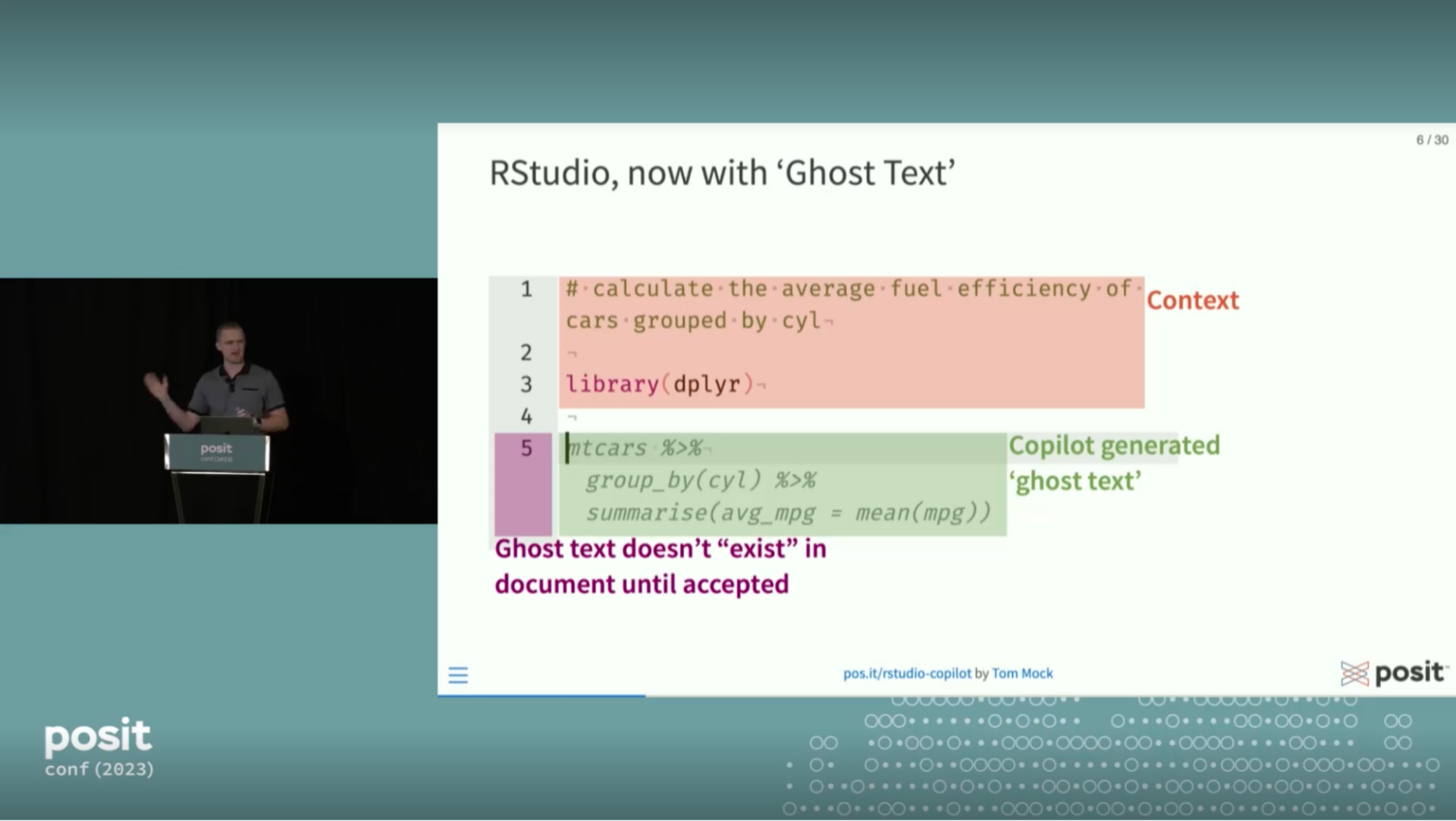 Quarto v1.4
It's been a year since Quarto was released, enabling users to weave text and code for scientific and technical publishing. Since then, there have been a ton of improvements and additions for authors. Charlotte Wickham, Developer Educator, highlights updates that you should know in the v1.4 release (available in pre-release on the Quarto website), including:
Embed shortcodes for embedding outputs from .qmd documents
Flexible cross references to cross reference pretty much anything
Quicker project creation and ability to create variations
Visual Code extension now has a Visual Editor
Find Charlotte's slides on GitHub and read more on the Quarto blog.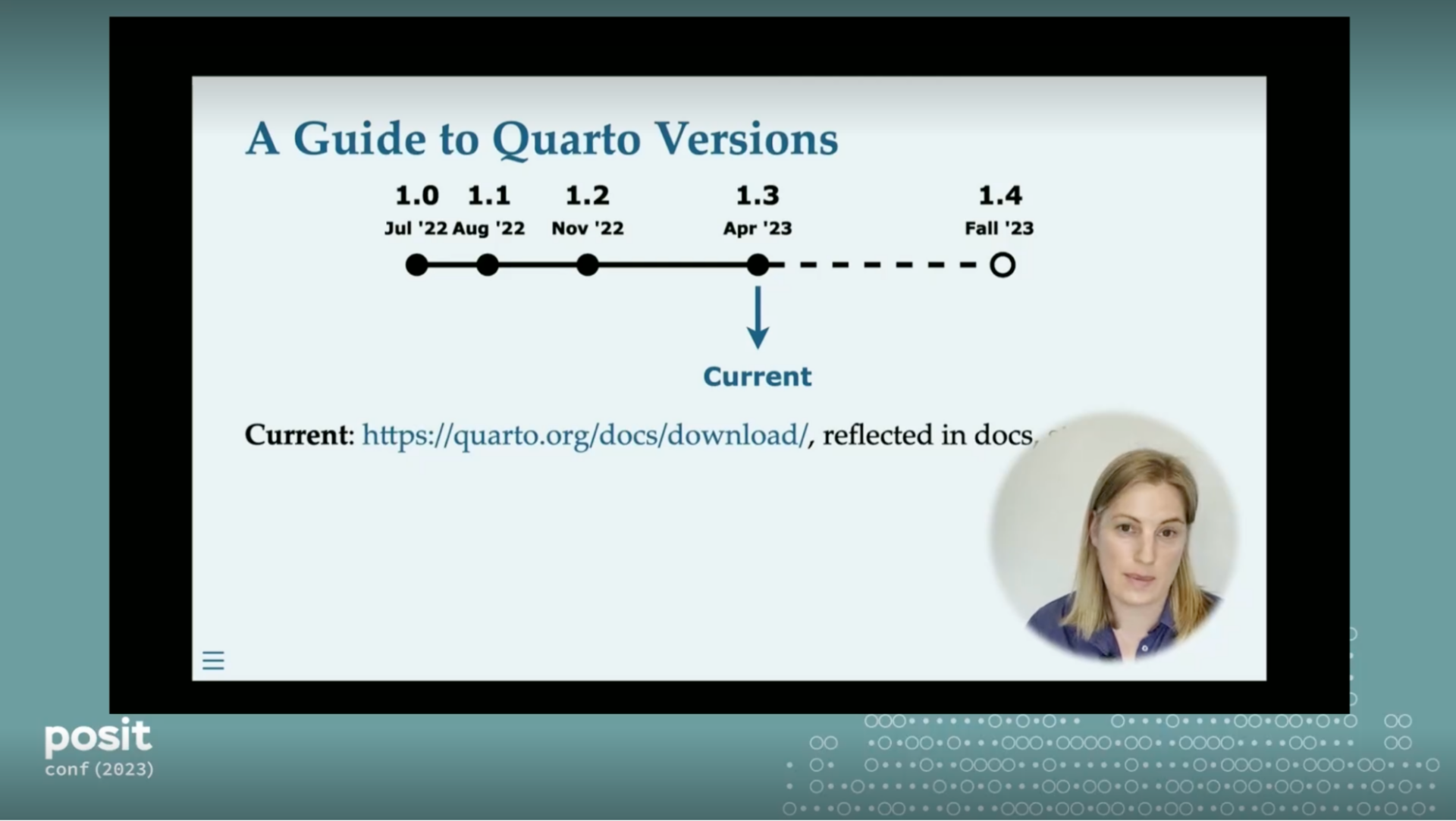 Shiny for R without a server
A year ago, we announced ShinyLive, a deployment mode of Shiny that lets you run interactive applications written in Python, without actually running a Python server at runtime. Now, that same capability has come to Shiny for R, thanks to the webR project.
Joe Cheng, CTO at Posit, walks through the history of ShinyLive and how to use it for your Shiny for R project. Embed Shiny apps directly in Quarto documents and more! Check out examples on the ShinyLive for R website and find Joe's materials on GitHub.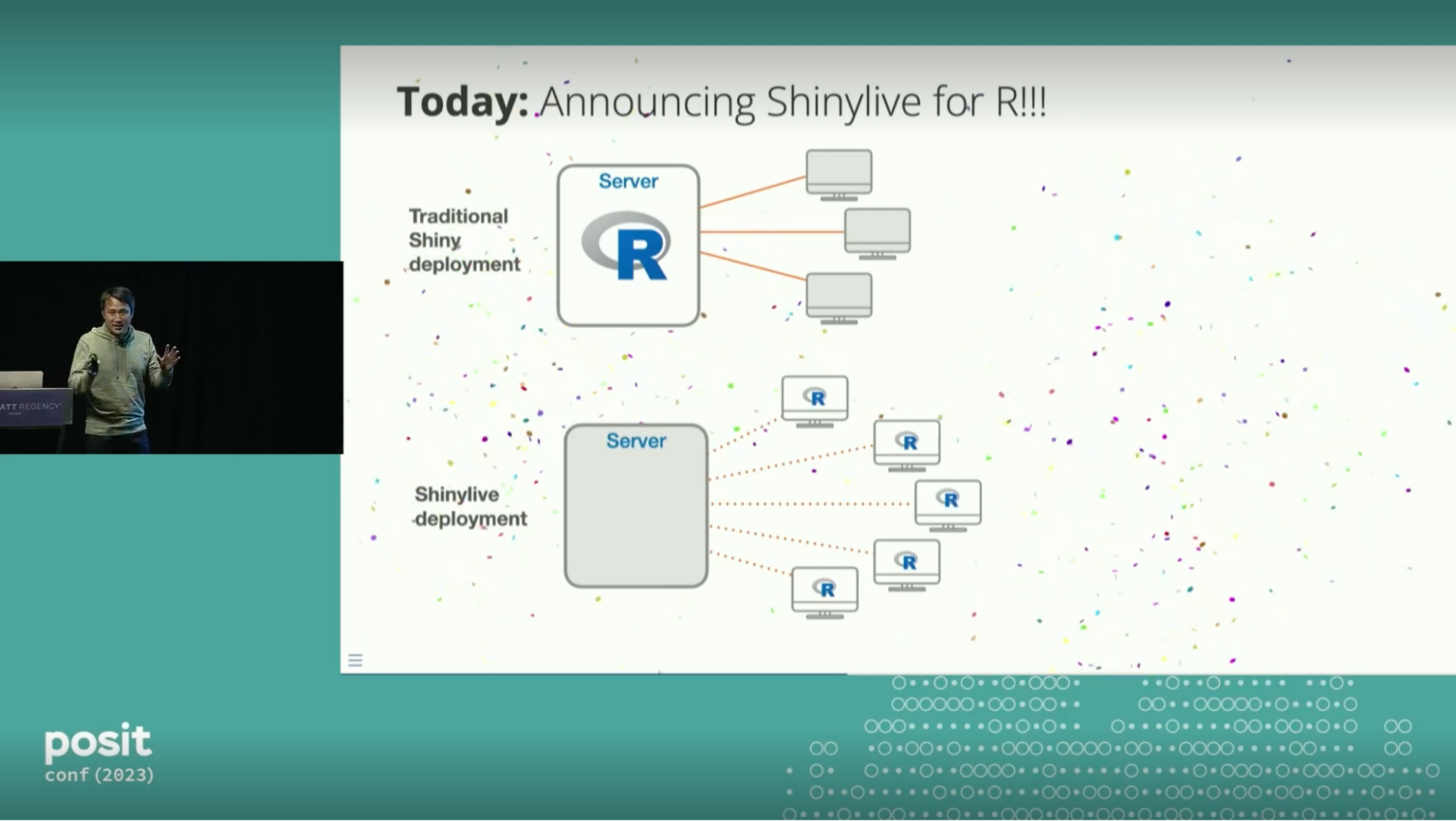 Using R with Databricks Connect
Spark Connect and Databricks Connect have made it easier to work with Spark, a powerful data processing system. Spark is a tool used by data experts to handle large datasets. With Spark Connect and Databricks Connect, you can control Spark stand-alone clusters remotely to perform data science at scale.
If you're an R user, there's good news for you. Edgar Ruiz shares the improvements in the sparklyr package and other related tools that will make it much easier for R users to use Spark Connect and Databricks Connect so that you can do more powerful data analysis with less hassle. Find Edgar's slide deck on Posit Connect.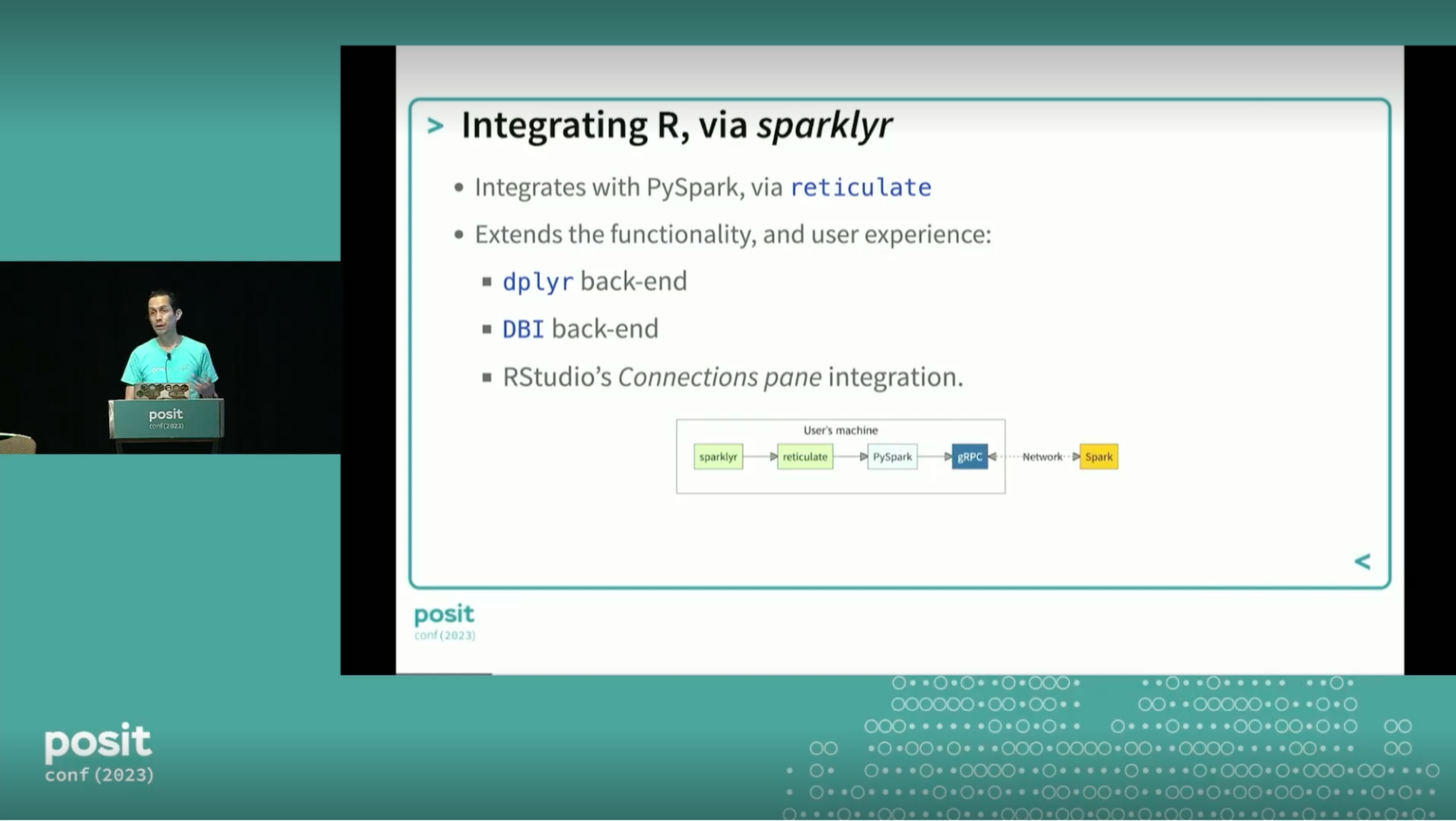 Content-level containerization with Posit Connect
Posit Connect is a Posit Professional Product that enables data scientists to move their work off their local machines and share it with others. Connect deployments reduce the burden on data scientists by inspecting environments and reconstructing them in an isolated and atomic way.
However, there are some workflows where more complexity is required. You may run into circumstances such as conflicting package dependencies, data with strict access requirements, and so on.
Beginning with 2023.05.0, Posit Connect supports off-host content execution for R and Python content in Kubernetes. Kelly O'Briant and David Aja from the Posit Connect team describe why you would want to run Connect in Kubernetes. Running Connect in Kubernetes allows for each application to operate within its own containerized context and offers a more nuanced approach to permissions management.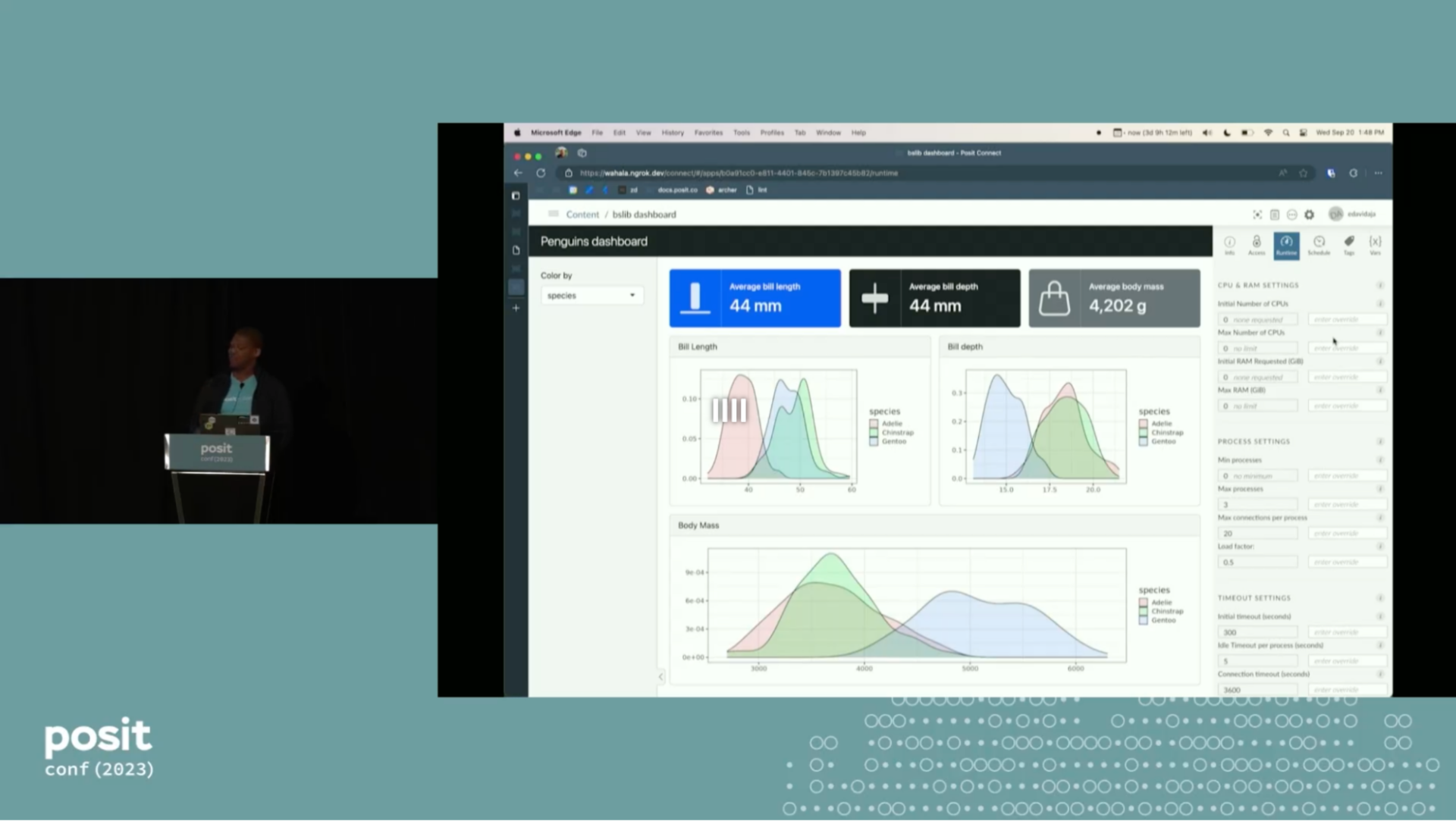 Keep the party going after posit::conf
This is just the tip of the iceberg. There were so many other amazing updates and announcements that we can't wait to share. Be sure to stay in touch: