posit::conf(2023) registration and call for talk submissions are now open!
2023-02-28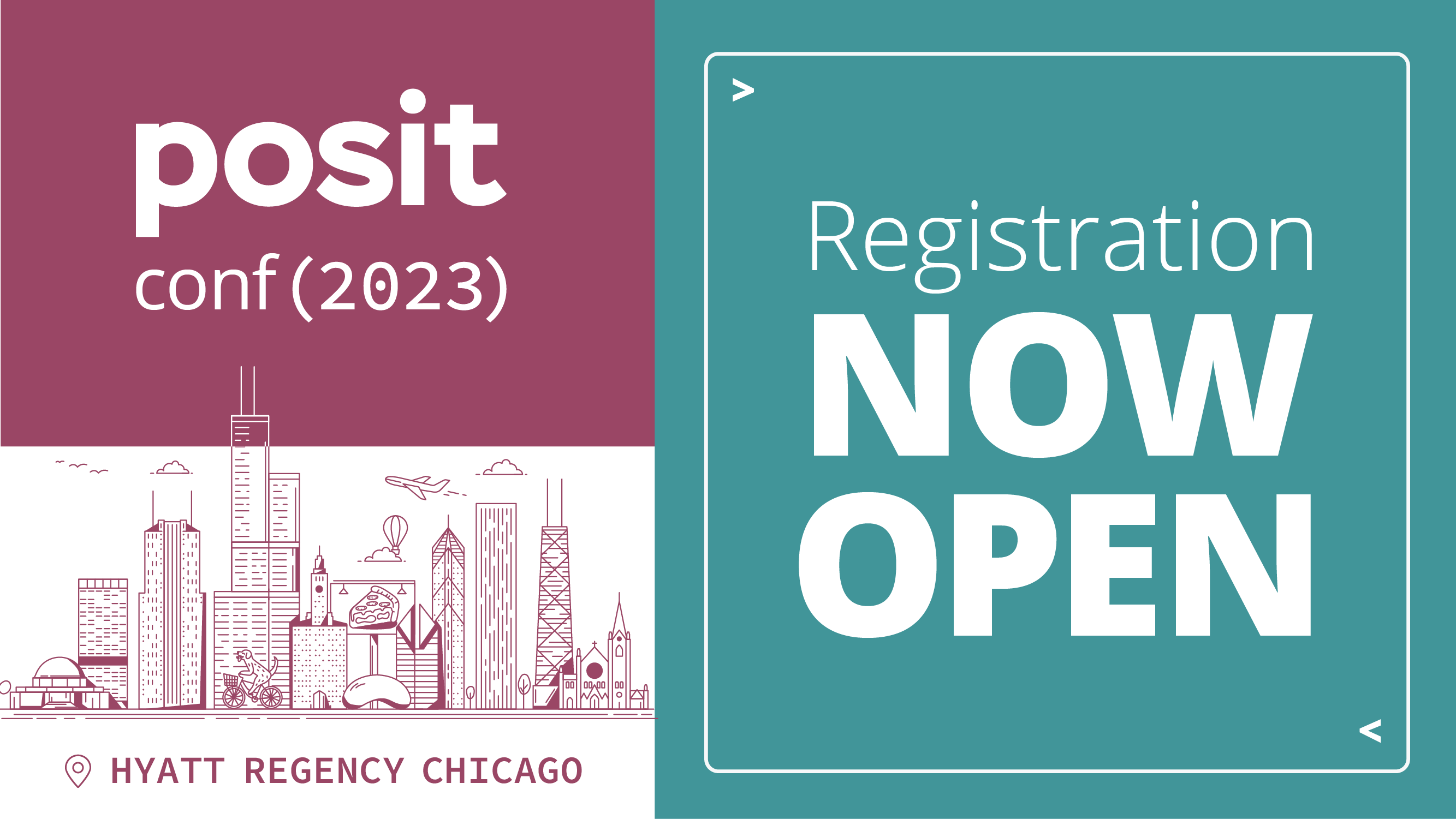 In-person registration is now open for posit::conf(2023), happening September 17-20 in Chicago, IL! Visit pos.it/conf for additional information, including details on how to register. Registration for virtual attendees will open at a later date.
Why you should come to conf
There are many reasons! Firstly, it's a great chance to connect with other folks who nerd out about data. We can now share two other great reasons: our keynote speakers and our lineup of workshops.
We're thrilled to announce our first three keynotes:
These speakers all have deep expertise in data science, and we're excited to learn from their diverse perspectives.
Our workshops are a great way to gain hands-on, practical skills in a topic. This year we have almost 30 workshops to choose from! You can decide how you want to spend the two days of workshops: either dive deep into one topic with a 2-day workshop or, for the first time this year, cover multiple topics by mixing and matching two 1-day workshops. Our workshops run the gamut from an introduction to R or Python to advanced Shiny or tidymodels. You can find a complete list and all the details on the Session Catalog page.
Another great reason to attend conf is for the talks — and that's where you come in.
Contribute to conf
The call for talks at posit::conf(2023) is now open! We'd love to hear about:
How you've used R or Python to solve a challenging problem.
Projects and teams where R and Python live together in harmony.
Your favorite R or Python package and how it makes life easier or unlocks new capabilities.
Your techniques for teaching data science to help reach new domains and new audiences.
Your broad reflections on data science, packages, code, and/or community.
Anything else you think the Posit community would love to hear about!
Talks are 20 minutes long and can be in-person or remote. We know we won't be able to accept all the wonderful talks you submit, so we will also include a couple of sessions of lightning talks. These 5-minute talks are drawn from the main pool of talk proposals, i.e., there is no separate application process.
Speakers receive complimentary registration for the conference and needs-based travel assistance. All speakers also receive coaching from Articulation Inc. This means your past speaking experience isn't as important as the quality of your ideas: if you have an interesting topic, we encourage you to apply, regardless of your background, experience, or job title. Speakers for rstudio::conf(2022) found the coaching both fun and worthwhile; it's a great opportunity to polish your speaking skills while getting to know the other speakers.
To submit a talk, you'll need to create a 60-second video that introduces you and your proposed topic. In the video, you should tell us who you are, why your topic is important, and what the attendees will take away from it.
Submission closes at midnight on April 7 Anywhere on Earth, and we'll communicate decisions by early May.
Opportunity Scholarships
We will provide 40 Opportunity Scholarships to individuals worldwide who are members of a group underrepresented at posit::conf(2023). These groups include people of color, those with disabilities, elders/older adults, LGBTQ folks, and women/minority genders. Because we know there is so much uncertainty around travel, especially for people outside the United States, Opportunity Scholars can participate virtually or in person. We'll do our best to help all scholars.
Opportunity Scholarships will include the following:
conference registration,
a workshop (either virtual or in person),
practical support, if needed, to enable participation in the virtual conference (such as an accessibility aid, a resource for internet access),
generous travel support for in-person participants,
and, of course, swag!
Opportunity Scholars participating in person will choose among the available in-person workshops, and we will host an online workshop for virtual participants. 
Submission for the Opportunity Scholars program closes at midnight on April 7 Anywhere on Earth, and we'll communicate decisions by April 24.