Registration for posit::conf(2023)'s virtual experience is now open
Join us for a virtual experience that brings together R and Python industry leaders, experts, and enthusiasts from around the world.
2023-06-29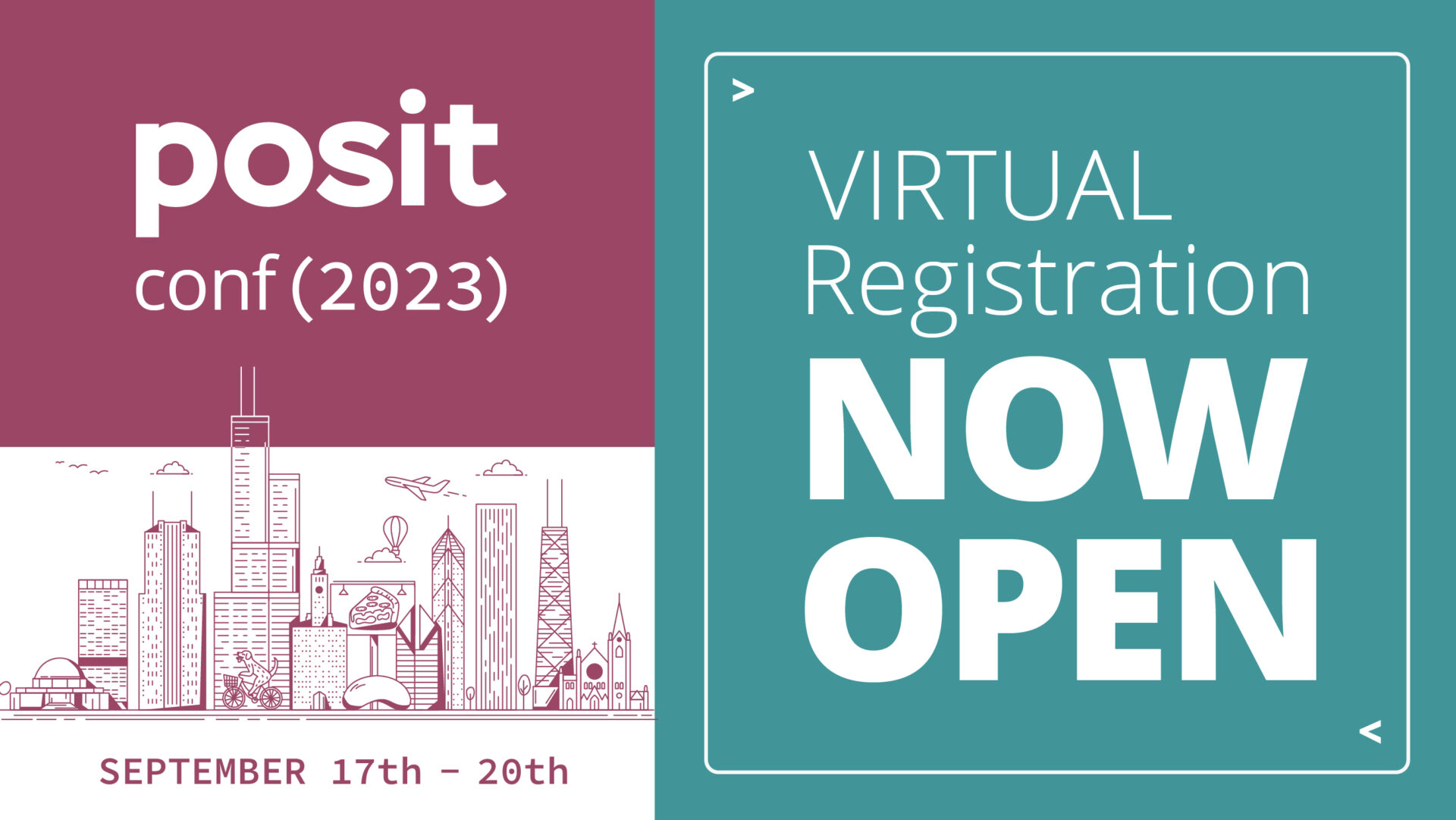 We are thrilled to announce that registration for the virtual experience of posit::conf(2023) is now open! Register now, or read below for more information.
The virtual experience of our hybrid conference is a unique experience that brings together R and Python enthusiasts from different countries, industries, and backgrounds to meet, chat, and share in the excitement of posit::conf.
With a diverse range of keynote presentations and talks and a host of virtual networking opportunities,  we are confident that this year's conference will provide exceptional value and meaningful interactions for all attendees. See the talk schedule here and check out a couple of reviews from last year:
That every talk was livestreamed, and the experience was extremely high quality (the quality of the stream, the production, the organization, the timing/pacing, all of it)
The talks were outstanding. but possibly even better than the talks, were the community aspects which are infused throughout all of it: in the talks, in the discord server, how people talk about the work on twitter, etc. all love all the time. makes you optimistic about the world.
The experience
Registration is required to access the virtual event portal and networking opportunities. By registering for the conference, you gain access to:
Livestreams of keynotes and talks from top experts, researchers, and open-source contributors in data science
On-demand recordings available shortly after the scheduled run time of keynotes and talks
Question and answer sessions alongside other attendees during the talks
The opportunity to chat, share, and learn with other attendees, no matter where they are, through our virtual networking platform
NOTE: Participation in the workshops, Birds of a Feather, and any other onsite events are not included in the virtual-only registration and will not be streamed.
The cost
To ensure the sustainability and high-quality delivery of our event, we decided to implement a registration fee for the virtual experience. We want to assure you that this change was not made lightly and was driven by the desire to support the infrastructure, technical requirements, and organizational costs for hosting a successful hybrid conference.
We understand the importance of being sensitive to this change, and we want to assure you that we offer discounts for students, academics, and government and non-profit employees to ensure accessibility and inclusivity.
$99/individual
$49/government or non-profit employees
$0/students or academics, or if you can't afford the paid options above
Register now!
Join us in September for the premier event for the global data community to learn about data science workflows with Posit tools, machine learning, Shiny, and much more.
Register for the virtual experience now, or check out our conference website for more details on the in-person experience. If you're planning to attend in person, workshops are filling up fast, so get your seat today!
It's always better when we're together, and we can't wait to have you join us no matter where you are.