Learn Python with Posit Academy
Announcing Academy for Python learners. We've taken our experience teaching R for data science and applied it to Python.
2023-02-07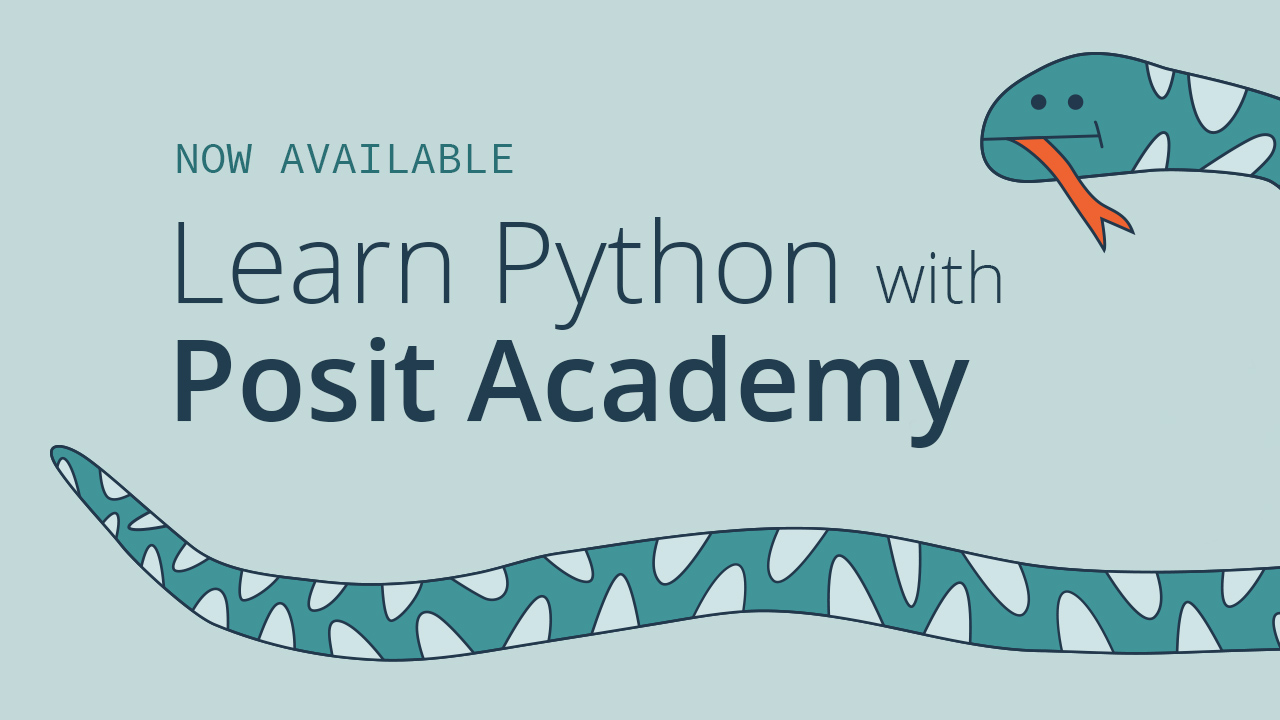 Back in March 2022, we announced Posit Academy, a mentor-led data science apprenticeship for professional teams. Academy takes what we've learned from years of teaching to provide the most effective way to build data skills together.
With Academy, we strive to go beyond the typical online learning experience and provide an immersive, outcome-based program. Posit experts provide training that focuses on applying data science skills through a hands-on project. Participants learn with the support of a peer group, mentors, lessons, and daily practice. All these elements combine to create a customized approach that ensures your team gains the skills they need to drive business value.
Since we launched in spring 2022, we've trained teams from multiple industries and geographies: Consumer Reports, Kellogg, AstraZeneca, Dow, and many more. Our specialized approach has provided data science teams the opportunity to grow their skills with exercises relevant to the data and challenges that they tackle every day. As Gabriella Rustici, Senior Director at AstraZeneca, stated:
Experimental learning is key to generating the motivation needed to develop our data scientists, and [Posit] Academy has been a great ally on this journey.
A few months ago, James Wade from Dow shared his team's experience with Academy, noting the effectiveness of the training long after the course was over:
It has been an exciting year, and we're delighted to continue working with organizations to upskill their data scientists.
We've launched Posit Academy for Python learners
Posit is the Open Source Data Science company. We have invested in creating open-source packages for R for over 10 years, and millions of people use our open-source projects every week for data science. We bring that energy and expertise to the Python data science community. Over the last few years, we have invested in:
Creating open-source projects to freely deliver valuable capabilities to Python users
Adding features to make it easy and productive to code Python in the popular RStudio IDE
Including extensive features in our enterprise products (Posit Team) to support Python-first data science teams
Increasing capabilities to Posit Cloud to make it easy for Python data scientists to freely do data science on the cloud
Now, we've taken our experience teaching R for data science and applied it to Python for data science. Posit Academy for Python learners has the same approach as our original program: immersive, practice-based, and customized curriculum done in cohorts and led by mentors. Both aspiring and established Python programmers can upskill with specific use cases, data, and best practices while completing projects relevant to their organization's daily work. Academy provides a unique, effective learning experience for those wanting to leverage this increasingly popular data science tool.
Learn more
Posit Academy delivers a turn-key data science learning platform to help professionals increase the level of their data science skills. We are excited to offer this mentorship experience for R or Python to your team.
Check out the Academy page on our website.
Schedule a call with a Posit expert or reach out to your customer service representative.