Roche: Shifting to an Open-source Backbone in Clinical Trials
2022-12-19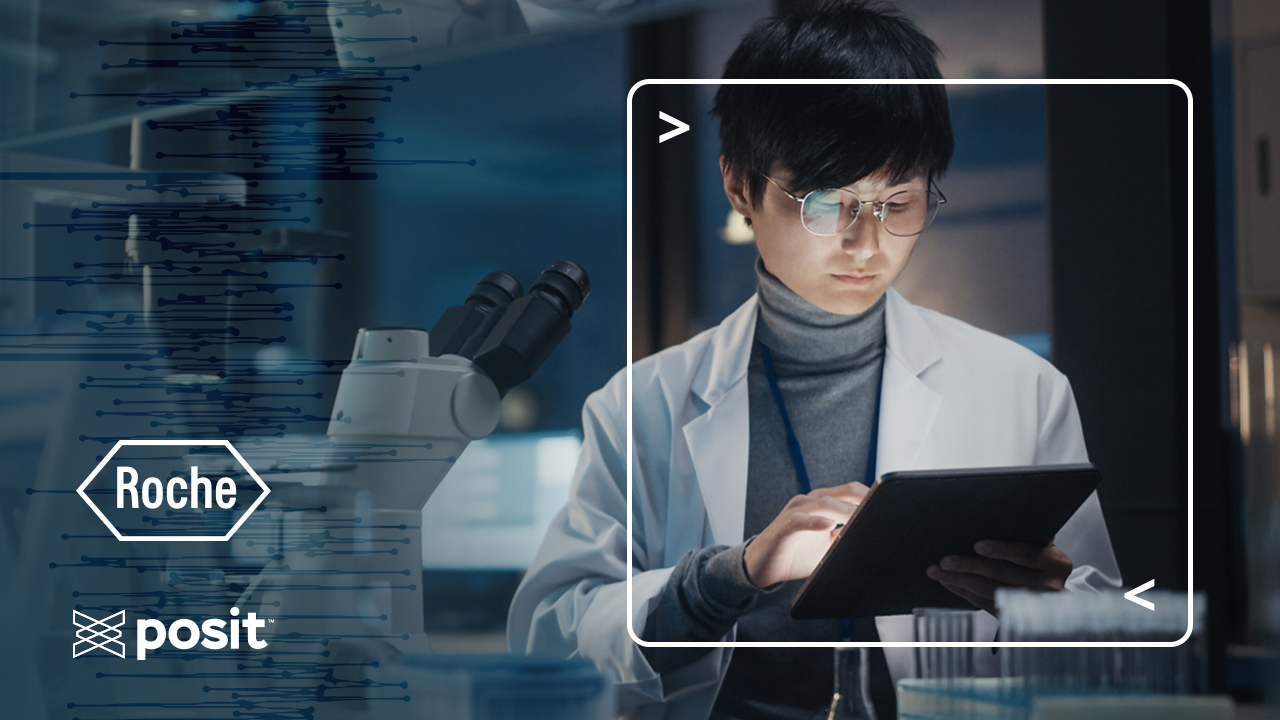 VIRTUAL EVENT
In 2023, Roche-Genentech will shift toward an entirely open-source infrastructure within clinical trials. 
This shift represents years of innovation across the organization, spanning package development, employee upskilling, product investments, and workflow changes. 
On January 11th, 2023, data science leaders at Roche and Genentech will detail this work and what it means for future clinical trials in a live presentation.
Specifically, Ning Leng, Dr. Kieran Martin, and Thomas Neitman will detail Roche's efforts and vision and the impact they hope this shift will have on Roche's ability to deliver helpful therapeutics to the market faster. 
To help organize this presentation, we've collaborated consistently with James Black, Senior Director of Insights Engineer at Roche. While he won't be speaking during the presentation, he has played a key role in this shift. 
We're incredibly grateful to be hosting this engagement and are proud to detail some of the key leaders at Roche-Genentech below.
PRESENTERS
| | |
| --- | --- |
| | Thomas Neitmann has been an avid R user for 8 years and has been a Data Scientist at Roche since 2019. He has been the technical lead for the {admiral} R package that has been co-developed by Roche and GSK and will be the next generation tool for ADaM dataset creation at Roche from 2023 onwards. Recently he started a new role as Code Collaboration Lead focussing his efforts on fostering collaborative open-source software development within the pharmaceutical industry, specifically as it relates to the clinical reporting pipeline. |
| | Kieran Martin joined Roche as a statistical programmer in 2015. He has been using R throughout most of his career, and was an advocate for its use in clinical trials. He became the R Enablement Lead in 2021, tasked with leading the transition towards using R as the core data science tool used for clinical programming. |
| | Ning Leng is a People and Product Lead in Product Development Data Sciences in Roche-Genentech. Ning joined Roche-Genentech in 2016 as a statistician in the oncology early development and personalized healthcare group. Ning has worked on both early and late phase oncology development, with a special interest in utilizing diverse data sources and advanced methodologies to generate insights for personalized healthcare. Ning is an advocate of automation, open sourcing and open collaboration in pharma. She serves as Roche representative on the R consortium board, co-leads the R consortium R submission working group, and co-leads the Meetup series of the Bay-area Biotech-pharma Statistics Workshop (BBSW). |
TEAM LEAD
| | |
| --- | --- |
| | James Black is the Senior Director of Insights Engineering in Data and Statistical Sciences, across Clinical and RWD at Roche-Genentech. James holds a PhD. in Medical Science and MPhil in Epidemiology from Cambridge University. During this time he worked at the London School of Hygiene and Tropical Medicine.  |
VIRTUAL EVENT