Workshops at posit::conf(2023)
We're thrilled to announce an impressive array of workshops lined up for posit::conf(2023).
2023-04-12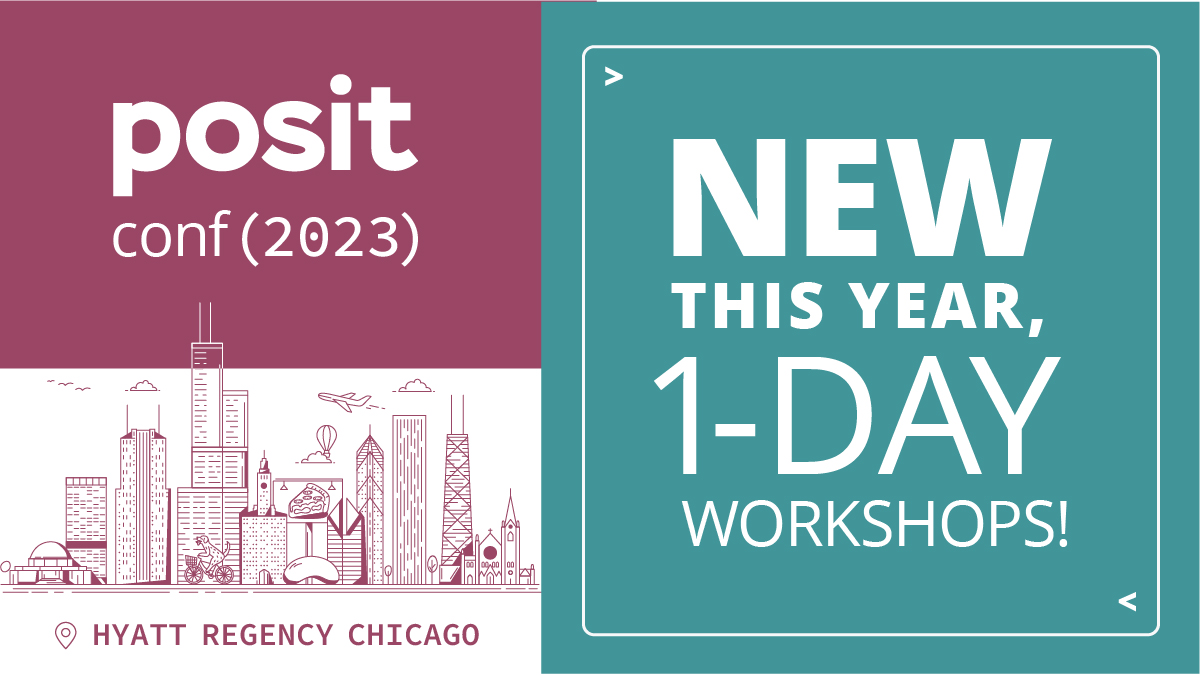 We're thrilled to announce an impressive array of workshops lined up for posit::conf(2023). These workshops offer a unique opportunity to gain practical, hands-on skills in a variety of topics. Each workshop includes engaging exercises, group discussions, and Q&A sessions, giving you a chance to learn and connect with like-minded peers.
We've handpicked the best instructors in each field and paired them with experienced teaching assistants to provide the highest-quality learning experience. With nearly 30 workshops to choose from, there's something for everyone. Don't miss out on this incredible chance to expand your knowledge and network with other professionals.
One & Two-Day Workshops – This year, for the first time, we're offering a mix of one and two-day workshops so that with your two-day workshop pass, you can choose to go deep into a single topic or spread your time across two topics.
Our workshops run the gamut from an introduction to R or Python to advanced Shiny or tidymodels. 
Data science workshops for beginners –

Are you new to R or Python and looking for a fresh approach to learning? Consider joining the Posit Academy program, a comprehensive six-week training program designed to take your data science skills to the next level. Posit Academy provides a unique opportunity to learn in a supportive, virtual and in-person environment. 

See our Academy workshops

.       
All Things Shiny –

Whether you're new to Shiny or an experienced user, we offer a wide range of workshops to suit your needs. Our workshops cover everything from introductory topics (including Shiny for Python) to advanced user interfaces and deploying Shiny in production.

See our Shiny workshops

. 
Take your Modeling to the next level –

If you want to improve your modeling skills, we have Intro to tidymodels, advanced tidymodels, forecasting, deploying models in production, and machine learning & deep learning with Python.

See our modeling and machine learning workshops

. 

R/Pharma Workshops

– R/Pharma, the leading conference about the future of drug development using open source, will host its in-person gathering at posit::conf.

See our R/Pharma workshops.

The flagship event, the

R/Pharma Roundtable Summit

, will foster in-person discussions and conversations about key items (reproducibility, submissions, scalability, etc.) with industry leaders about open-source tools for next-generation submissions.

There is also a pharma-focused workshop titled, "

Leveraging And Contributing To The Pharmaverse For Clinical Trial Reporting In R

", introducing participants to the pharmaverse, a collection of open-source R packages that provide the next generation backbone for clinical trial reporting.
Explore all our workshops below.
Alongside our excellent workshops, there's so much to look forward to at posit::conf! Running from September 17th to September 20th in Chicago, join us for two days of inspiring conference keynotes and talks, as well as numerous opportunities to connect with our vibrant data science community. To learn more about the conference and all it has to offer, visit our website.
We look forward to learning with you.