---
Geospatial analysts work in a wide range of positions within almost every industry. They work in government, non-profit, academic, and private institutions using geospatial data and technology to answer questions about the environment, agriculture, climate, urban planning and design, marketing, public health, transportation, and myriad other topics. A typical day may include data prep/cleaning, field work, cartography, image analysis, vector analysis, feature engineering, modeling, or database management. This diverse group necessarily uses a diverse set of tools. In this talk, we will explore how R fits into the spatial analyst's toolkit. What does the geo community think of R? Who uses it? What groups avoid it? What geo-packages are used most? How can we, as a community, make R more appealing for geospatial scientists?
Materials: slides, github-repo.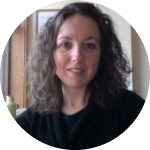 Tina Cormier
As a member of the Geoinnovation team at Indigo, Tina works at the nexus of image processing and data science. She helps the team turn raw image feeds from multiple sensors (e.g., MODIS, Landsat, Sentinel) into meaningful features and insights that inform various modeling activities. She works primarily in R, but is also learning Python and Java Script. These tools facilitate activities like crop mapping, field boundary delineation, and QA of data streams going into models. She also spends time building compelling visualizations - maps, graphs, and images - for internal and external partners.