---
Over the past eight years of doing data science, I've made plenty of mistakes, and I'd love to share them with you — including what I've learned and what I'd do differently with some hindsight. This talk will cover mistakes made during analyses (including communication when delivering results) team and infrastructure mistakes, plus some advice for incoming data scientists.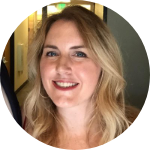 Caitlin Hudon
My name is Caitlin Hudon and I am lead data scientist at OnlineMedEd, a startup in Austin. I have about eight years of experience doing data science-y things in a variety of industries including IoT, marketing, higher education, non-profits, and start-ups.
I am also the co-founder of R-Ladies Austin, founder of the 'ALL the Ladies in Tech' quarterly happy hour here in ATX, and a member of the Fall 2017 NASA Datanaut class.
Outside of data, I love tacos (especially trading taco spots in Austin), traveling (I've been to all 50 states and am working on the continents), the Cubs (including Will Ferrell's Harry Caray impressions), and live music.