---
What does it mean to say software is, to quote one Twitter user, 'so f***ing magical!'? In the context of our popular community hobby of rating and sharing R packages, the term 'magic' seems reserved for our most powerful expressions of visceral approval. Why is this? And what does it say about how we value software? Can this magical quality be quantified? We will consider these questions in examination of magical specimens, and in the process reveal the surprising depths at which notions of magic are embedded in the R zeitgiest.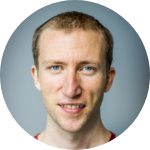 Miles McBain
As an Applied Statistician Miles combines a theoretical statistical knowledge and computing expertise to help organizations understand their core business and their customers.
Miles is a hacker at heart, which he channels into regular contributions to the open source and open science communities.
In addition to commercial projects Miles is always interested in small data/statistics consulting jobs for start-ups and non-for-profits that enable him to expand his applied experience in areas such as as A/B testing, experimental design, and statistical power analysis. He does this mainly for the thrill of learning new domains and the opportunity to meet fascinating people.