---
In this talk, I will outline a unified philosophy of data science education, and provide tips and tools for implementing these principles in the classroom using R and RStudio. Although data science as a professional discipline is well-established, its pedagogy is still in a period of growth. Even within a single university, multiple data science courses may be offered across different departments leading to inevitable redundancy of efforts amidst rich domain-specific innovations. My experience as an instructor in many such courses has lead me to five principles that transcend domain, context, and choice of language: reproducibility, communication, version control, practical application, and data ethics. For each of these full-stack themes, I will share examples of how to leverage tools in R and RStudio to enhance learning.
A 5-minute presentation in our Lightning Talks series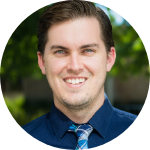 Hunter Glanz
Hunter Glanz is an Assistant Professor of Statistics and Data Science at California Polytechnic State University (Cal Poly, San Luis Obispo). He received a BS in Mathematics and a BS in Statistics from Cal Poly, San Luis Obispo followed by an MA and PhD in Statistics from Boston University. He maintains a passion for machine learning and statistical computing and enjoys advancing education efforts in these areas. In particular, Cal Poly's courses in R, SAS, and Python give him the opportunity to connect students with exciting data science topics amidst a firm grounding in communication of statistical ideas. Hunter serves on numerous committees and organizations dedicated to delivering cutting edge statistical and data science content to students and professionals alike. In particular, the ASA's DataFest event at UCLA has been an extremely rewarding experience for the teams of Cal Poly students Hunter has had the pleasure of advising.