The State of Pharma: Collaboration and Innovation with Open-Source Tools
Pan-company collaboration and open-source tools are driving exciting innovations in the pharmaceutical industry.
05/04/2023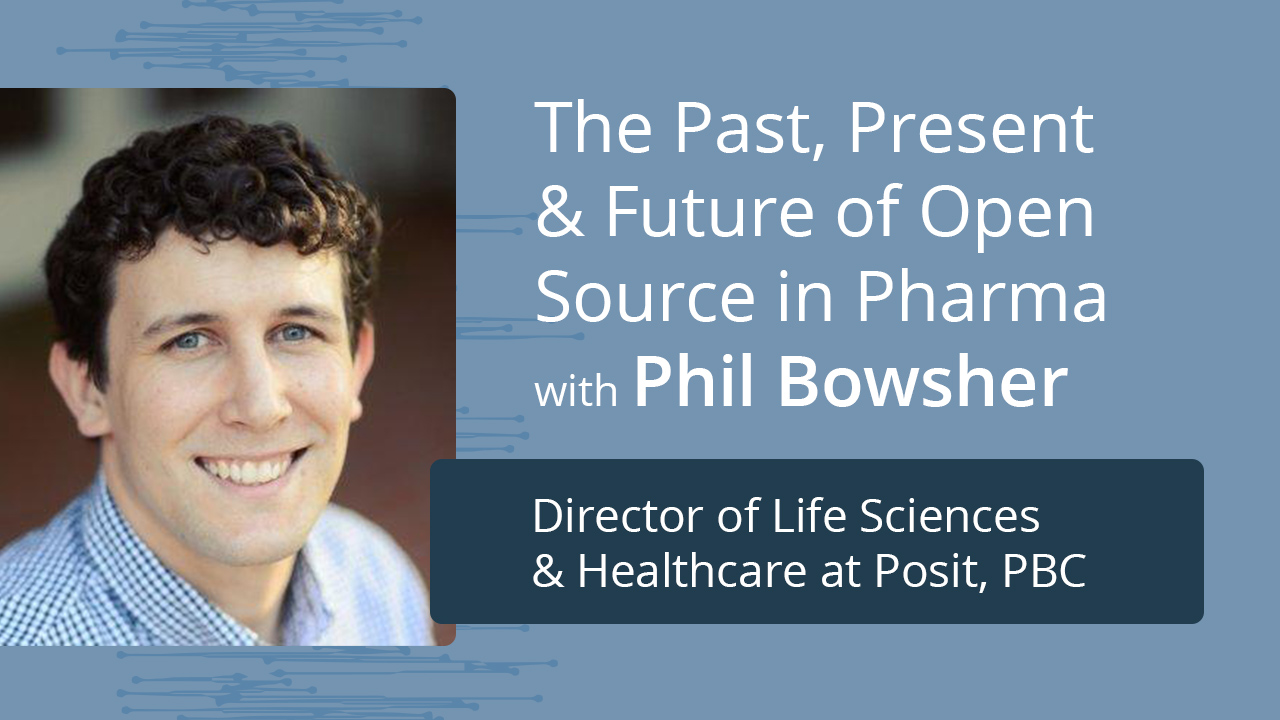 This blog post summarizes a recent interview with Phil Bowsher, Director of Life Sciences and Healthcare. Watch the video and read more below:
We at Posit are thrilled by the explosion of stories about cross-collaboration among pharmaceutical organizations using open-source tools. It's inspiring to learn from the many individuals and groups creating amazing software driven by a shared mission to revolutionize drug development.
For years, collaboration between pharmaceutical companies was constrained due to competition in the field and closed software. However, it was clear that many were working on – and replicating – similar data tasks and analyses. Members of different organizations were itching to collaborate and share lessons learned. Inspired by the open-source philosophy, which advocates for modifying and sharing publicly-available tools, they sought to partner with others facing similar challenges and opportunities.
We compete on the molecules, not the software…because open-source software is often developed collaboratively, it can benefit from a faster pace of innovation than proprietary software. New features and capabilities can be added more quickly, and bugs and issues can be addressed more efficiently.

– Thomas Neitmann, PHUSE US Connect 2023
The pharma community realized that something formalized and structured could make a big impact. At Harvard, a pan-company event called R in Pharma kicked off, aimed at open-source drug development for the pharmaceutical industry. Or, as Phil puts it, a "spark that brought the pharmaceutical companies together."
Several significant events occurred at the first R in Pharma. The R Validation Hub, "a collaboration to support the adoption of R within a biopharmaceutical regulatory setting," met for the first time. 
Members of different pharmaceuticals floated ideas that eventually grew into parts of the pharmaverse, a group of packages developed by various companies to support open-source clinical reporting workflows. Because R has the advantage of being an open-source language, people can contribute to and grow the ecosystem of packages. For example, admiral began as a single package for creating common ADaM datasets. Now, there are multiple admiral packages across different therapeutic areas, contributed by various pharmaceutical organizations.
The momentum coming out of the conference was strong.  For Phil, it was clear that "a new horizon was coming out for open source to change the landscape." 
In particular, the use of R and the powerful Shiny framework in late-stage clinical trials presented a significant opportunity for innovation. Shiny enables the creation of web applications using R, allowing interactive data exploration to facilitate decision-making. The excitement about the capabilities of Shiny was palpable during the first R in Pharma, with many talks showcasing novel ways of using the tool. 
Since the conference, the landscape has indeed changed. Pharmaceutical companies have adopted Shiny to aid collaboration, automate routine processes, streamline code reviews, connect to high-performance computing technologies, and incorporate in FDA clinical trial submissions. The momentum generated by R in Pharma continues to grow and spread.
At Posit, we strive to unlock more possibilities like those presented by Shiny. By developing high-quality, accessible, sustainable, open-source tools, we hope to help organizations harness the power of open source.
To maintain our independence, we offer commercial versions of our open-source server products designed to help enterprises adopt open-source tools in production. Our suite of tools, Posit Workbench for development, Posit Connect for content, and Posit Package Manager for package validation, comprise Posit Team. Together, pharmaceutical organizations combine our open-source and professional tools to streamline their workflows, improve efficiency, and accelerate breakthroughs.
Phil notes that change management is essential. "It was going to take some time…for that to work," he says. Most organizations have used the same tools for years, so switching to new tools requires guidance and resources. The spark ignited at R in Pharma has continued to grow and spread, thanks to the efforts of its speakers and trainers. They have done an incredible job educating and training people all around the world to transition to open-source workflows. Last year, the conference held twenty workshops over ten days, all for free.
Phil sees tremendous potential for the future of pharma. "It's going to be interesting to see how the future plays out," he says. The recent explosion of large language models comes to mind. "I don't think that's going to happen right away, but we see this very big, inclusive, and interruptible future for [late-stage] drug development."
Join the pharma community driving innovation with open source
If you want to join the vanguard of the pharmaceutical field, register for posit::conf(2023)! We are excited to partner with R/Pharma to host their in-person program at our upcoming annual user conference. Leaders from various pharmaceutical companies such as Roche and Novartis will oversee the discussions focused on the "next-generation" open-source tooling for drug development.
We are hosting two activities specific to the pharmaceutical industry:
The "R/Pharma Roundtable Summit" for program leaders and people leading Open Source initiatives, and
"Leveraging And Contributing To The Pharmaverse For Clinical Trial Reporting In R" workshop for data professionals.
Read the R/Pharma at posit::conf(2023) blog post and register today: http://pos.it/pharmasummit.