RStudio is now Posit!
2022-11-02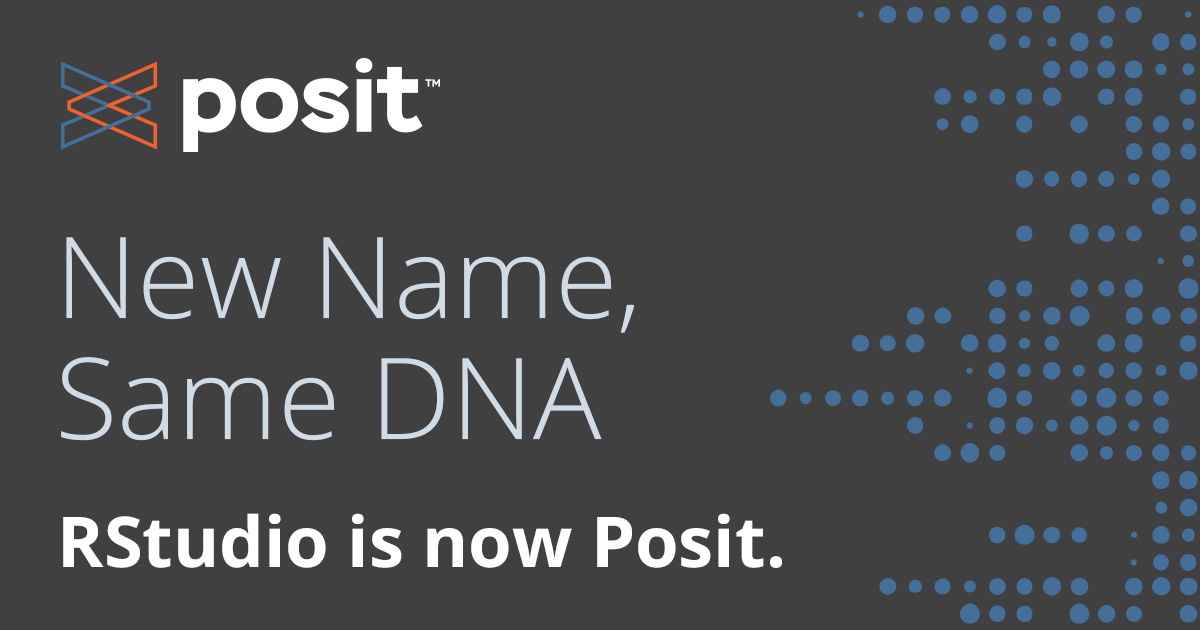 RStudio was founded in 2009 with the vision of creating high-quality open-source software for data scientists. We invest heavily in open-source development, education, and the community with the goal of serving knowledge creators 100 years from now.
We believe Posit should fulfill a purpose beneficial to the public and be run for the benefit of all stakeholders, including our community, employees, and customers at large. That's why we're designated as a Public Benefit Corporation. As a Certified B Corp, we must meet the highest verified standards of social and environmental performance, transparency, and accountability. Our directors and officers have a fiduciary responsibility to address social, economic, and environmental needs while still overseeing our business goals. To fulfill our mission, Posit intends to remain an independent company over the long term.
As you can see, while our name may be changing, our commitment to helping data scientists use open-source software to ask and answer important questions remains the same.
A Commitment to Open Source: We have an unwavering focus on open-source software because we believe the best way to achieve meaningful progress is to put the power of data science tools in the hands of everyone who needs them, regardless of their economic means.
A Broader Focus: We want to make scientific communication better for everyone. Posit is not about pivoting from R to Python. It's about broadening and embracing the Python community as well as the R community. We have been supporting multiple languages for many years and will continue to create open-source and commercial software for R, Python, and beyond.
A Larger Community: The R community is a special place. We want to help more parts of science become as open, dynamic, inclusive, and diverse as the community we belong to.
To learn more about why we're becoming Posit, please watch J.J. Allaire's and Hadley Wickham's keynote from this year's rstudio::conf in Washington, D.C.
We are excited to celebrate this major milestone with our community, customers, and partners. Your support made all of this possible!
In the midst of the excitement, we also understand that you may have questions. Please see below for answers to frequently asked questions. Still need help? Contact your account manager directly or email positquestions@posit.co.
General FAQ
Q: Why is RStudio changing its name to Posit?
Read J.J. Allaire's blog post announcing the change! J.J. and Hadley announced the new name on July 27 during rstudio::conf(2022). You can watch a recording of the announcement on YouTube. 
Q: Does this rebrand reflect a change in ownership, business structure or public benefit corporation (PBC) status?
The rebrand changes our name and brand aesthetic only. Our ownership, business structure, and PBC status will not change.
Q: Will I still continue to receive emails from rstudio.com? Can I still send emails to rstudio.com?
It will take us some time to transition everything over to posit.co, so all rstudio.com emails will continue to function normally throughout the transition, at least through December 2023. As of November 2nd, 2022, we have launched new email addresses under posit.co – but forwarding will be in place to ensure your communication is not impacted. Regardless, we recommend adding "posit.co" to your address book.
Q: What happens to rstudio.com?
We are transitioning our primary website from rstudio.com to posit.co on November 2nd. At this time, redirects will be in place for the majority of rstudio.com to the relevant pages at posit.co. Some content will remain on rstudio.com during this transition. The full transition will take place in the months following as we continue to migrate content to posit.co.
Q: Where will the RStudio brand remain?
The RStudio IDE will continue with its current name, which we hope will now more clearly refer to the best IDE for open-source data science rather than an entire company with many other product offerings.
Additionally, you will continue to run into the RStudio name across subdomains (e.g., community.rstudio.com) for a period of time following November 2022, and those will be updated on a rolling basis.
Q: Will the names of Posit's professional products change?
Yes, most professional products will get a name change. The official names of these professional products will change as of November 2nd, as shown in the table below. New versions of these products with the new branding will be released over the next few months.  
| | |
| --- | --- |
| Previous name | New name (as of November 2nd) |
| RStudio Workbench | Posit Workbench |
| RStudio Connect | Posit Connect |
| RStudio Package Manager | Posit Package Manager |
| RStudio Academy | Posit Academy |
| RStudio Cloud | Posit Cloud |
Product names that remain the same:
RStudio Desktop, RStudio Desktop Pro, RStudio Server (open source) and RStudio Server Pro (legacy)
shinyapps.io
Shiny Server and Shiny Server Pro (legacy)
Q: Will Posit support Python in the way RStudio has supported R?
Posit's professional products already provide extensive support for teams using Python, on both the development and deployment sides. This includes supporting Jupyter Notebooks and VS Code in Workbench, publishing interactive Python content (such as Streamlit, Dash, Bokeh, and FastAPIs) on Posit Connect, and support for PyPI packages in Posit Package Manager. We will continue to invest in making Posit Team a great environment for Python-first and bilingual data science teams.
On the open-source side, Posit has and will continue to invest in developing open-source projects that deliver value to data scientists using both R and Python. Recent projects that support both languages include Quarto for technical publishing, Shiny for R and Python, and vetiver for MLOps.
Q: Will this rebrand affect Posit's commitment to the R ecosystem and community, including its work on open-source projects such as Shiny and the tidyverse?
No, it will not. We still believe R is the best language for interactive data science. We'll continue to develop tidyverse and tidymodels packages to support data science. We'll continue to work on packages that connect with other computing environments like reticulate, sparklyr, tensorflow, and torch. We'll keep working on Shiny to make sure it's the best way to develop interactive applications in R.
But you can also expect to see our open-source tools support more languages. Quarto, the evolution of R Markdown, is built to support multiple languages from day one. Shiny now has a Python version. Vetiver and our other MLops tools are designed to support teams that use both R and Python.
Sales FAQ
Q: Will my billing process be different? Who do I reach out to with any billing or invoicing questions?
Through mid-November, there will be no change. You can continue to engage with AR@rstudio.com for billing inquiries. Later in November, we will move our contact address to AR@posit.co, our Posit email address, and you will begin to see references to our new company and product names on your invoices. Forwarding will be in place so that no communication is disrupted.
Q: Will product names and the company name shown on my invoices and sales orders be consistent so that I can verify what is being purchased?
Once all of our systems are fully updated, yes. While we work to update all of our systems, you may see some references to both Posit and RStudio. Please know that we are working diligently to ensure all references are consistent across our various interactions with you. If you ever have any questions, don't hesitate to reach out to AR@posit.co.
Q: Will you have a new Tax ID that my finance team will need?
Our Tax ID will remain unchanged. Additionally, our corporate address, and corporate ownership are not changing. 
Q: Is your legal entity changing? Do I need a new W9?
Posit Software, PBC is officially our new legal entity name (no change to tax ID). We have a new W9 available on our website for your records. On Thursday, November 3rd, an email will go out to existing finance/billing contacts with a formal letter detailing the change as well as a copy of our new W9.
Q: How do I contact Support?
The support@rstudio.com address and ticket form will continue to work throughout the transition to Posit. By the end of the day on November 2nd, you will be able to also contact us using the new email address and site: support@posit.co and support.posit.co.
Q: Will the product name changes impact my procurement process?
The identifiers for our product SKUs (e.g., RSWXXXX) will stay the same to avoid issues with procurement software. However, the names and descriptions will be updated to reflect Posit branding.
Recruiting and Careers FAQ
Q: Will the previously open RStudio positions become positions for Posit? Or will there be two different sets of positions posted (some for RStudio, some for Posit)?
We have posted a single set of positions. All open positions have been updated to Posit branding. These positions will remain available on the new Posit website. Check out our new Careers Page for the full listing.
Q: If I have previously applied for a position at RStudio, do I need to reapply to Posit?
No. The name change will not affect our hiring process or application statuses. You will not need to reapply.
Q: Will company benefits, offered salaries, or other terms of employment be changing with the new name?
No. The name change will not affect our benefits, salaries, or terms of employment, and our current RStudio programs will remain in place following the change to Posit.
Technical FAQ
Q: Will the product name changes impact functionality, licensing, what features I am entitled to, etc.?
No, the change in product names will have no impact on functionality, licensing or available features.
Q: Will my old license for RStudio Workbench / Connect / Package Manager / Server Pro be affected? Will I need new license keys?
Your license and license keys will continue to work and will not be affected by this change.
Q: Will internal process names or utilities be changing?
Initially, you will not see changes in this area. In the long run, we want the runtime presentation (process names, script names, configuration setting names) of a product to align with the branding of that product. We recognize abrupt changes can cause significant pain for IT teams operating our products. We will prioritize reasonable backward compatibility to minimize impact.
Q: Where can I find product documentation?
Our docs site, docs.rstudio.com will migrate to docs.posit.co in the near future. The old documentation site at docs.rstudio.com will redirect to the new Posit site at that time.
Q: Will this affect my ability to upgrade from older versions to newer versions of the rebranded products?
No, your ability to upgrade will not be affected. You should continue to follow the product upgrade instructions on docs.rstudio.com (soon to be docs.posit.co).
Q: Where can I find the status of Posit Cloud, shinyapps.io, or Posit Public Package Manager?
Our status page, status.rstudio.com, will migrate to status.posit.co on November 3rd. At this time we will be switching the software that runs the status page to StatusPage.io. The RSS feed will continue to work and email subscribers will be migrated.
Do you have more questions?
Contact your account manager directly or email positquestions@posit.co.